The Ultimate Guide to Adventuring With Your Cat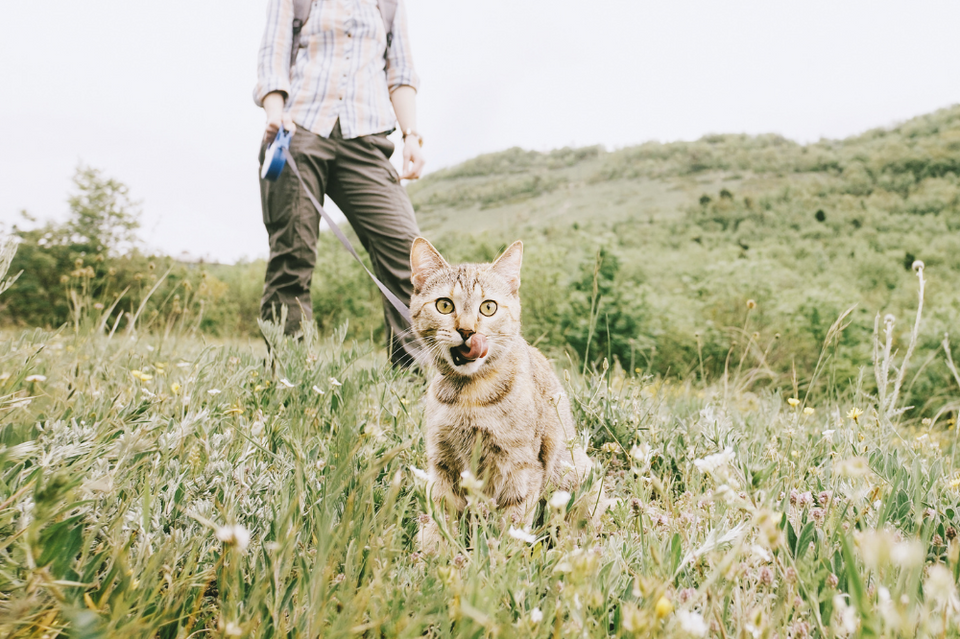 Maybe you've seen the Instagram posts and pictures of #AdventureCats – cats that climb, hike, boat, and camp, and you've decided that's what you want in a feline friend. Cats are natural adventurers — curious, playful, and wild at heart. Read on for our tips on how to take your cat out of the (cardboard) box and out into nature.
1. MAKE THEM FEEL SAFE
Before you even begin, make sure your cat even has an affinity for adventure. Some cats have been indoor cats their entire lives, and have no interest in exploring the wilderness with you. In the spirit of being a loving pet parent, make sure that your cat's interests align with your own, and don't force them to do anything they don't want to do. Keep them free from risk and danger. If your cat isn't interested in getting out into the wild, you can still have plenty of fun adventures at home and indoors.
2. FIND A HARNESS THAT WORKS FOR THEM
Don't be surprised if your cat goes limp or won't move the first time you put a harness on them. Unless you regularly dress up your cat, they're probably not used to wearing anything but their own fur. Give your cat time to adjust and start by having them wear the harness indoors for 15 minutes at a time, and build from there.
3. BEGIN TO INTRODUCE THEM TO A LEASH AND THE OUTDOORS
Don't attach a leash to a cat's collar — it is safer to attach a leash to a harness. There is less chance of a cat escaping that way, and a harness will not constrict their throat. Don't let your kitty off the leash when you go exploring. That's a good way to lose them, as many cats do not come when called, especially in unfamiliar places. A leash also prevents your cat from chasing after any wildlife (like a snake) that might harm them!
4. START SLOW
This is basically a new fitness routine for your cat and they will need time to adjust to new environments and new activities. Start in your yard or a quiet space first, then progress to shorter, less-populated routes. From there, the world is at your feet and your cat's paws.
5. CATS HAVE A DIFFERENT PACE THAN DOGS, SO ADJUST YOUR EXPECTATIONS ACCORDINGLY
If you're a cat mom or dad, you already know that cats only do things on their terms. You may have to plan on carrying your cat on your hikes if they decide they are tired or don't want to move. Plan on having a backpack that your cat can ride in when it's time for a catnap.
6. PREPARE FOR THE UNCERTAINTY OF THE OUTDOORS
Determine what kind of adventures you'll be taking your adventure cat on, and be ready. Bring a cat life vest if you're going boating; bring what they need to stay the night if you are camping. Talk to a veterinarian to see what concerns you should be aware of, and make sure all vaccinations are up to date. Be prepared to scoop your cat up if any danger — a dog, a child, or wildlife — presents itself. Also be sure to pack water, food, and any medications your cat may need during your trip.
7. HAVE FUN!
Having an adventure cat is all about creating the time and space for you to enjoy more of your cat's purr-sonality and company. Enjoy your time together exploring. And don't forget to snap a picture of your trailblazing feline so we can see them!