Clever Dog Found After Opening Doors To Escape Vet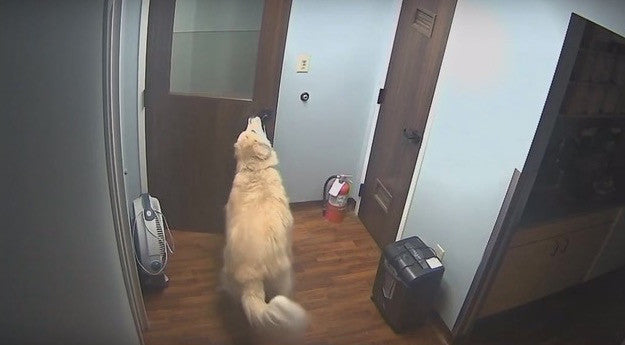 General, a 10-year-old Great Pyrenees, made a great escape from the Aquia-Garrisonville Animal Hospital in Stafford, Virginia by opening up multiple doors. The dog was being kept at the Animal Hospital while his family of eight were visiting relatives in Virginia Beach. 
Surveillance video from Fox 5 News shows General cleverly using his nose and mouth to open his kennel and several other doors at around 4 am in the morning and then eventually making his way outside to the parking lot where he seemed to get lost.
Luckily, General the canine Houdini was found hours later. According to the vet's Facebook page, the dog was found resting in the yard of nearby neighbors about 300 yards from the vet. 
 General's family, who rescued him when he was five, always knew how special and clever their dog was. "Getting out of doors, in a door is nothing new. I told them when we dropped him off, but never had a problem getting out of any place that boarded him before," General's owner Travis Campbell told Fox 5.
Campbell told Fox 5 that his dog "spent a night and a half rehearsing trying to figure out how to open the door from the inside, which is how he got a little scratch on his nose." 
Needless to say the Campbells, who consider General a seventh child in addition to their six human kids, are elated General is safe. Travis Campbell left to pick him up as soon as the dog was found and General got to join his family for the rest of their vacation in Virginia Beach.