Remembering the Heroic Dogs of 9/11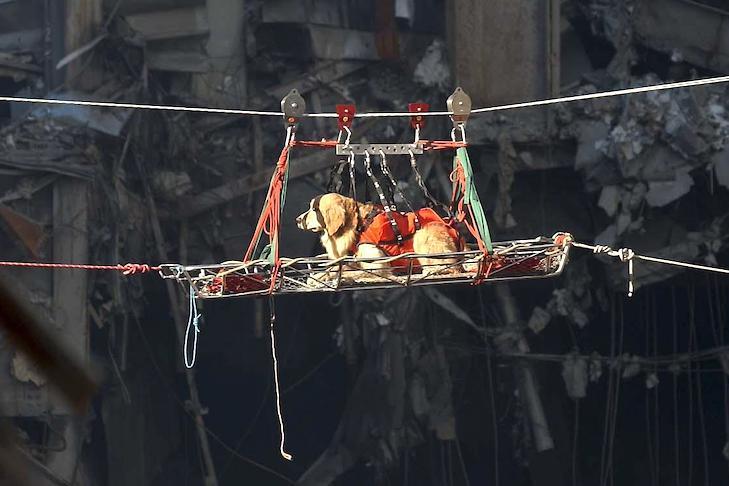 We will never forget the many incredible acts of heroism during the devastating events of September 11th, 2001. Some of these heroes were canines. 
Over 20 years ago, search and rescue dogs used their powerful noses to find survivors in the rubble at Ground Zero. Afterward, therapy dogs provided much-needed comfort to first responders and family members of the victims.
We're looking back on these heroic acts of the dogs of 9/11.
Disaster search dogs
About 300 dog and handler search and rescue teams responded to the terrorist attacks. These remarkable dogs used their powerful noses to find people and save them from the rubble at Ground Zero, where the World Trade Center's twin towers once stood.
Riley the Golden Retriever, pictured above, was one such remarkable dog who assisted in the search and rescue efforts. Riley helped rescue several firefighters from the rubble. He provided rescue and comfort to people over his life of 13 years, finally passing away in 2010.
Another remarkable rescue dog was Apollo, a German Shepherd trained by the NYPD, who graduated from the Canine Special Operations Division when he was two. He was already a nine-year-old senior when he and his handler, Peter Davis, were the first to arrive on the scene, only fifteen minutes after the collapse of the South Tower.
Apollo and Davis worked 18-hour days for weeks, searching the rubble - first for survivors and then for victims. For his work, Apollo was given one of the first AKC Humane Fund Awards for Canine Excellence (ACE).
While Apollo was first on the scene, the last human survivor was found 27 hours after the search began by a dog named Trackr and his handler, Canadian police officer James Symington.
Most notably, just before Trackr's death in 2009, Symington entered an essay contest and won, giving Trackr the honor of being cloned, resulting in five puppies born two months after the dog died. The next year, the pups began training as search and rescue dogs.
According to Dr. Cynthia M. Otto, a veterinarian who worked at Ground Zero, images of these heroic canines in action inspired many dog parents to pursue disaster relief and search-and-rescue certification.
The last 9/11 Ground Zero search dog passed away in 2016. This brave Golden Retriever named Bretagne lived to be sixteen years old. She passed away just shy of her 17th birthday.
Firefighters lined up along a Houston area sidewalk to honor the canine as she took her final steps. Bretagne served our nation from trying to find survivors at the World Trade Center buildings to searching for victims during Hurricane Katrina. The heroic pooch was given a fitting farewell.
Therapy dogs
In addition to the brave search and rescue dogs like Bretagne, who worked many hours to find survivors after the September 11th attacks, there were hundreds of remarkable therapy dogs that served to comfort those affected by the tragic events.
Therapy dog Nikie and his handler Frank Shane provided help not only for the people trapped in the wreckage but for another group injured by the event. This group included first responders and rescue workers who spent long, exhausting days and weeks on-site. Nikie provided comfort and became a welcome sight, helping people to pull out of the mental and emotional burdens of working at Ground Zero.

Tikva the Keeshond helped ease the pain of the family members of the victims and comforted the overwhelmed rescue workers. The gentle dog was there to soothe those who needed it most as best she could - for example, tapping her nose against a face filled with tears as she rode with the victims' family members on the ferry ride to Ground Zero.
The first rescue
In addition to the hundreds of dogs that arrived to help afterward, there was one heroic dog who saved her human from certain death. The dog was Roselle, a yellow Lab, and the human was Michael Hingson, a computer sales manager.
They were both on the 78th floor of the North Tower when the first 767 hit eighteen floors above them. Hingson called his wife, made sure his staff had evacuated, then began the daunting task of getting himself out of the building.
What made it much more difficult was that he had been blind since birth, but that's why Roselle was with him in the office in the first place. She was his guide dog, and she led him safely all the way down 78 flights of stairs — 1,463 steps.
They reached the outside just as the South Tower collapsed, but despite the chaos and the debris, Roselle calmly led Hingson to safety by simply doing her job.
The heroic actions of these dogs — Riley, Apollo, Trackr, Bretagne, Nickie, Tikva, Roselle, and many other remarkable dogs of 9/11 — should never be forgotten. None of them are with us any longer; at least not in this world. But their brave actions and their memories shall live on in history.