Indoor Activities for Your Kids & Pets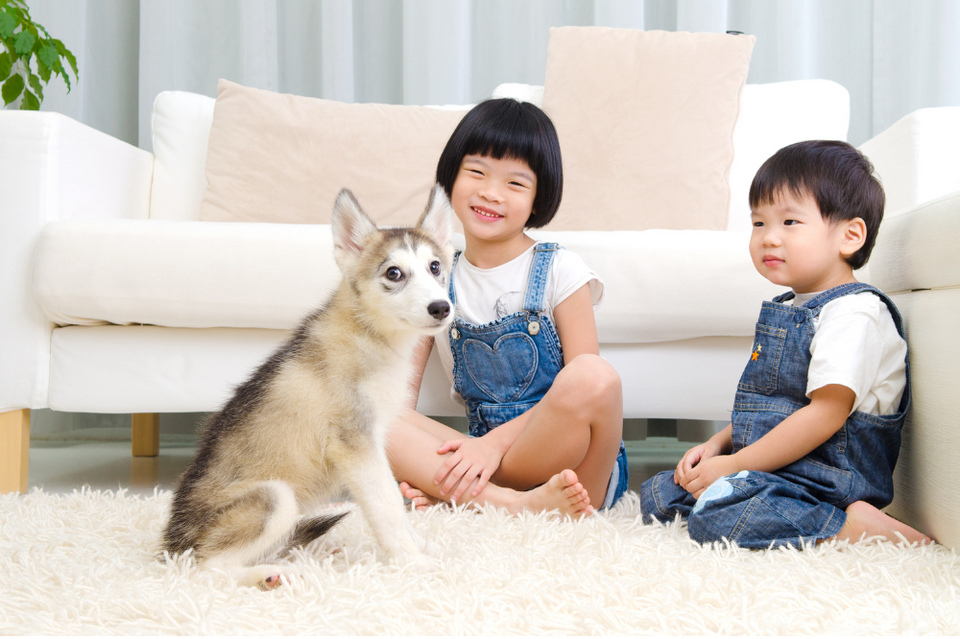 Whether it's raining cats and dogs outside, the weather is getting cooler, or the household humans are not feeling well, there's no reason that staying indoors with your kids and pets needs to be boring. There are plenty of things to do for the whole family inside of the house - furry friends included.
Here are just a handful of the many ways that you can all spend time together indoors: 
Play hide and seek. 
Believe it or not, hide and seek is a fun game to play with your pooch. Aside from being highly entertaining for your kids, you'll be amazed at how smart your dog is once they catch on to the game.
Not to mention, it allows your dog to develop problem-solving techniques using sound and smell, it's an effective way to teach "sit" and "stay" commands, and it's fun! 
Plus, there are a few different ways that you can play, so you could always change it up a bit and see which way works the best for your particular pup. No matter which method you choose, everyone can take turns playing various roles to help your dog along the way. For example, have one child stay with the pup while the toy, family member, or food is being hidden. Another child (or yourself) can walk around with them, helping rule out hiding spots.
Teach your dog a new trick.
Any time is a good time to brush up on obedience training! With your dog inside, you can eliminate those outside distractions like squirrels running by or noisy vehicles.
Let the kids take over as teachers, building confidence to instruct their fur baby to do something new. Especially if you have young children, always supervise when they're with your family dog. It may take some time for them to take behavioral cues from your pup, so you want to ensure safety every time.
It also helps to align the family beforehand on what commands to use for new tricks. If different family members are helping with the training, consistency is important.  
Watch TV shows or movies as a family.
Sometimes, snuggling and watching a favorite TV show or movie is all you really need. Put on Animal Planet and savor much-needed snuggles on the couch with your canine, feline, and kids.
Does your cat appear glued to the TV when another cat is on the screen? Go for a cat-related movie like 'The Aristocats'. Does your dog get excited whenever they see another dog on TV? Pick a dog movie like '101 Dalmations' or 'Lady and the Tramp'. If your pet is fascinated by other animals, select Animal Planet! 
Your pet will most likely match your energy when it comes to television. If they notice you're enjoying what you're watching, they'll enjoy it too! In other words, feel free to put on a game featuring your favorite sports team - they'll root right along with you.
Make a fort.
Time to put those couch cushions and pillows to good use! An awesome fort will provide hours of fun for your kids and your furry family member. Everyone can contribute to gathering the supplies to create the fort, and then share in the building process. Not sure how to build a pillow fort? No problem - there are endless online resources for any living room fort you want to build.
The best part is that once you've built the fort of your dreams, adults can join in the fun as well as cats or dogs. The real challenge is making it large enough to fit everyone!
Bake treats. 
Have your kids (and your pup) help you out with a healthy dog treats recipe! Being helpful, especially to their furry friends, can make children feel important and needed. It also provides a bonding experience when the whole family gathers in the kitchen. From peanut butter dog treats to dog desserts, there are so many recipes to choose from for your family baking session. 
Since some breeds may be prone to food allergies and there are particular ingredients that can be harmful to dogs (for instance, peanut butter containing xylitol), checking with your vet is always a good idea. They might even be able to recommend some recipes to you.
Related articles