Lost Beagle Shows Up At Dad's Work 2 Days After Going Missing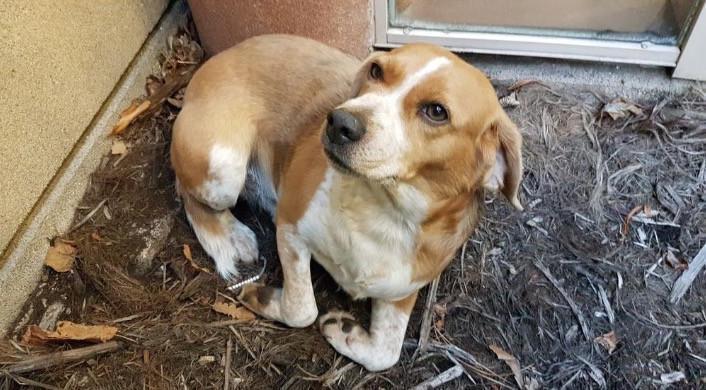 A clever rescue beagle named Cleo is called a Houdini dog by those who know her, because she manages to slip out of her collar and run away. 
"Cleo just stops, sits down, pulls her neck in and she's off," Ryk Goddard, Cleo's dad, told The Dodo. And while Cleo has run away after getting loose from her collar more than once, she has usually turned up a couple of hours later at the vet, which isn't very far from her family's house in Tasmania.  
But a few weeks ago, Cleo performed her great escape act in a city park surrounded by busy roads. Goddard wife's, Sophy, was walking the family's dogs including Cleo and their other rescue dog named Parsley when Cleo swiftly slipped out of her collar and darted away.
After a few hours and no sign of Cleo, the family began to worry. Goddard shared a post about Cleo on his Facebook page hoping to spread the word. After two nights of no Cleo, a miracle happened. 
Best start to the morning when we found @rykgoddard's lost dog curled up at the front of the ABC. pic.twitter.com/o6xZ67gmFu

— Carol Raabus (@craabus) May 31, 2017
 One of Goddard's coworkers got to work early one morning when she saw an amazing sight. Clever little Cleo was curled up in front of the ABC Radio Hobart office. When Goddard arrived a few moments later, he couldn't believe the scene.
As it turns out, Cleo probably used her nose and keen sense of smell to sniff her way back to her doggie dad Goddard. 
"She had no collar and was scared and shivering. I had to pick her up and carry her inside as I had to go back on air to do the traffic and weather report, so she ran around the studio sniffing everything while I did that. Then she sat with me at my desk until the family came to pick her up," Goddard told The Dodo. 
 The Goddard family got their Houdini dog a new harness to prevent more escape attempts, but the sly beagle has already managed to get out of this harness, too. Luckily, she ran straight back home this time. 
Written By: Gia