Everything You Need for a New Puppy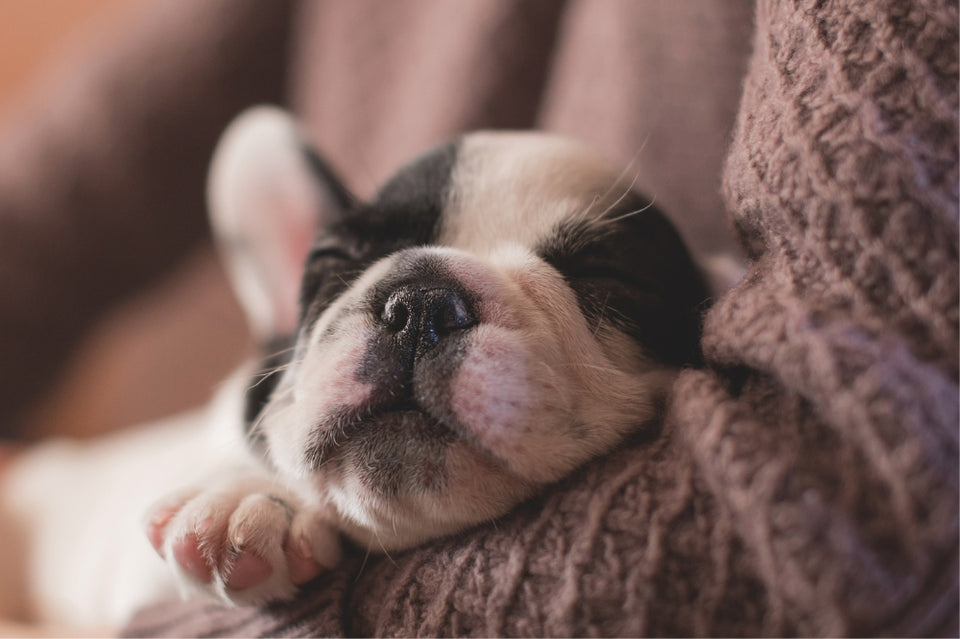 Welcoming a new puppy into your home is an exciting time filled with laughter, fun, snuggles, and joy! Other than spending as much time as possible with this new furry family member, there are a few basic things to keep in mind to help them feel truly welcome in your home—especially if you make an effort to keep your home looking nice!
Like babies, puppies need a lot of things! They need food, food and water bowls, treats, toys and more to enjoy a healthy life in their new home. If this is your first rodeo, you may not know everything you need for your new bundle of joy. Our new puppy checklist will help you prepare for your new arrival.
Puppy Supplies: The new pet essentials
Food and treats
Puppies need proper nutrition to grow into healthy adult dogs. To avoid upset stomachs during what can already be an unsettling and stressful time for them, be sure to have a supply of the same food your puppy has been raised on already. Once they've settled in to your home, talk to your veterinarian about the best food options for your puppy and their specific needs based on their breed, their age, and so on. In addition to the food that fuels them, treats also play a big role in the training process for your new furry family member. Try to find treats that are soft, chewable, and low in calories. While treats help with positive reinforcement during the training process and strengthening the bond between you and your new pup, they should not make up more than 10% of your pet's overall diet.  
Food and water bowls
Your pup should also have dedicated food and water bowls. While food bowls may only go out or be filled at certain times of the day, their water bowl should left out and readily available to them. If you find your pup eats their food too quickly, consider a slow feeder dog bowl. Eating rapidly can cause discomfort, bloating, and other digestive issues in dogs. With a slow-feeding bowl, slower eating at a more normal pace is encouraged.  
Leash, collar, harness and ID tag
Taking your new puppy for a walk is a great way to get active and helps your puppy learn leash-walking manners. You'll need a secure and sturdy leash and a collar or harness before you emBARK on your walk. Using a dog harness instead of a dog collar makes it easier to control and manage the dog, even those with leash manners that aren't quite mastered. Harnesses are also a good training tool for puppies that haven't yet learned to walk on a leash. A harness will prevent him from getting tangled up in the leash and possibly hurt in the process. Your new puppy's collar or harness should also contain an identification tag that includes your dog's name, your name, and your up-to-date phone number.
Puppy bed
Although your puppy may sleep in a crate at night, it's important to buy your puppy a dog bed. Your puppy can rest on the bed during the day, and it can be a safe place they know is theirs and available to go to for rest. When looking for the right dog bed, be sure to get one that can accommodate your puppy's breed and size as they grow. Especially in large dog breeds, it is important to provide a high-quality orthopedic pet bed that alleviates joint pain and issues like hip dysplasia. It is also recommended that you provide the best pet bed you can in each room where your family spends time together, as the dog is sure to join! By providing a joint-friendly resting place in each room, you will also minimize the wear and tear on your couch cushions, carpet and rugs.
Shampoo and grooming tools
Even if you plan to take your puppy to grooming appointments, you should still have basic pet grooming products available at home. Puppy shampoo, a comb, and a pet brush are essential tools to have on hand. When bathing your puppy at home, always use a shampoo designed specifically for pets. Do not use human shampoo on your puppy.
Toys
All dogs need mental stimulation, and toys are a great way to play and interact with your new puppy. Look for dog toys that are specially designed for puppies. These are usually smaller and may help them as they go through teething. Also, consider interactive treat toys and puzzle toys to keep your puppy engaged and busy. Dedicate time in your day for playing and building the bond with your new furry friend.
Veterinarian
Talk to your veterinarian about any medications your puppy should have. These could include heart-worm or flea and tick preventions. Remember to take your pup to the veterinarian for regular checkups for vaccinations, preventative treatments and to keep their microchip details up-to-date. A microchip provides permanent identification for your puppy that links them to you, no matter where they end up. If your dog is lost, any shelter or veterinarian can scan your pet's microchip to find your contact information so they can reunite you as soon as possible.
Puppy Proofing: How to prepare your home for your new puppy
It's easy to focus on everything your new puppy does as cute because the impact of most puppies is very small compared to a fully-grown animal. From the moment your new puppy sets their paw in their new forever home, puppy hijinks and behavior are seen mainly as cute and correctable. Yet, new pet parents must recognize the short window for puppy training and work to establish habits that that result in well-behaved adult dogs. Of course, all dogs are different, but there are questions that every household must answer, such as:
Should the dog be allowed on the furniture?
Will the dog be crate trained?
What will the dog's schedule look like?
Does this dog breed shed?
Crate
House training is a big part of being a new pet parent. Crate training allows your puppy to have a safe space of their own in your home while also minimizing accidents on the carpet and inappropriate chewing on unattended shoes and other items as puppies go through the teething process. It's recommended to crate your pup whenever they're not being watched or attended, including overnight while you're sleeping.
Puppy gates
Use puppy gates to block off potentially hazardous areas such as stairways or basements. Make sure to puppy proof your home by concealing away wires, toxic plants, or anything accessible to them that may pose a threat to your puppy.
Maintain a schedule for your puppy
A new puppy requires a lot of time and attention. Establish a routine with other members of the household and designate duties so everyone knows their responsibilities. If you have to be away from your puppy for extended periods of time, consider looking for a trusted pet sitter, who can come to your home and let your puppy out for potty breaks and playtime. 
Protect your furniture from your puppy
Another top consideration that new pet parents quickly learn of is the impact fur can have on their lifestyle! Unless you bought a couch specifically for its blending potential, you may be in for a big surprise. For smaller breeds, especially those in the "companion" category, like a French Bulldog, it is simply too difficult to resist their charm—we all give in eventually. So why not welcome your new pup to the couch in a style fitting both their needs and your lifestyle. The PupProtector™ Waterproof Faux Fur Throw protects couches and household furniture while blending in with your high-end decor. It also makes a fantastic Travel blanket for car rides! 
Being prepared for your new puppy will allow you to focus on bonding with your pal as soon as soon as possible! For more tips and resources like this one, visit our blog.
Related articles