Watch: Grateful Dog Holds Rescuer's Hand During Car Ride Home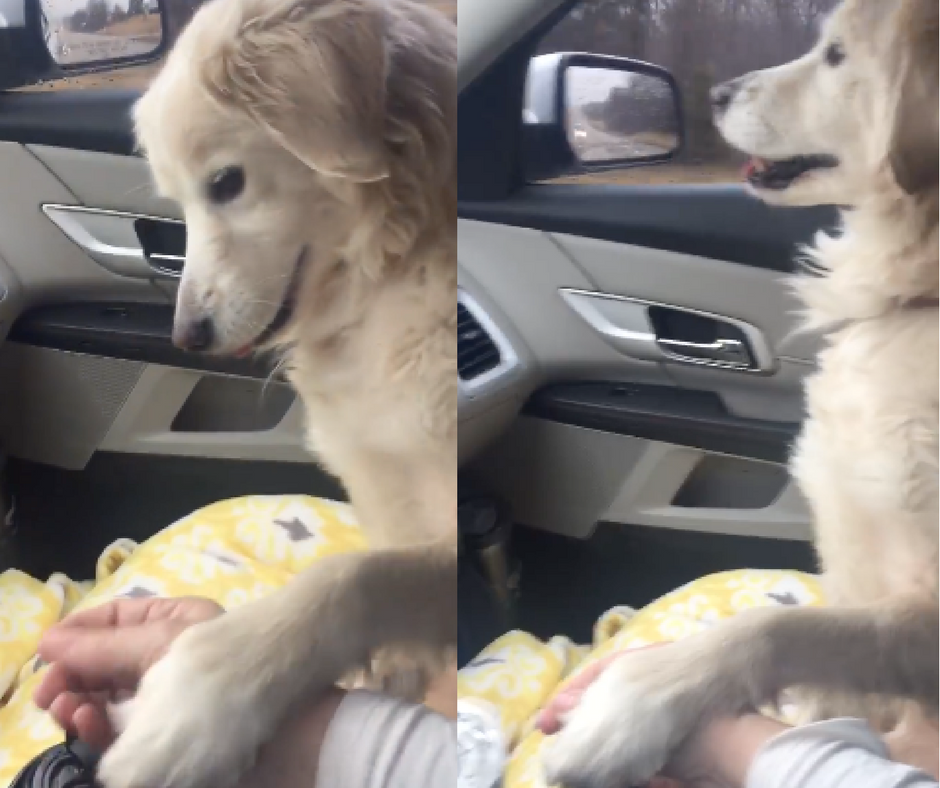 After Regan the dog's owner passed away, she landed in an animal shelter feeling sad, confused, and terrified. Luckily for Regan, she ended up in Goofy Foot Dog Rescue, an animal shelter in Lebanon, Tennessee founded by the very caring Kim Mozena Rezac. 
Rezac happened to be at the shelter upon Regan's arrival and she spent several days working hard to gain the distressed dog's trust. After a little while, Rezac got the four-year-old sweetheart to wag her tail and get excited whenever she showed up and so she decided to take the pup home as a foster until she could find her a new family. 
"You could tell she was scared and afraid. I would go in and give her treats and sit with her and talk," Rezac told Today. "Our shelter is wonderful, and our volunteers do such a great job with the animals. But I hated for her to be there if she could be curled up on a couch at my house."
So, Rezac brought Regan in her car and proceeded to drive to her home. And sweet Regan was so grateful during the approximately 2 1/2 hour ride to her new foster home. 
"She wanted to hold my hand the whole way. If I took it away, she would paw at it. She just wanted to be touching," Rezac told Today. "I think she felt secure in touching someone familiar. She was so nervous and scared in the shelter but as soon as she jumped into my car she seemed so grateful."
Rezac decided to film grateful Regan's reaction in the car, because she was so touched by the dog's gratitude and wanted to draw attention to the sweetheart in the hopes of finding her a new home. And soon enough, her mission was accomplished. Over two million views later, Rezac received a plethora of adoption inquiries.
Just two days later, Regan was placed in a home with a couple that was "meant to have her" according to Rezac. "They are fostering her for now, but intend to adopt assuming things keep going well. It's a wonderful situation," said Rezac. 
Rezac told Today that she hopes to get across two important points with Regan's story. The first is to put a plan in place for pets to be taken care of if something were to happen. Regan's owner suffered an untimely death in her early 50s and probably thought she had much more time left, but preparation is key in the event of unfortunate situations according to Rezac.
Rezac also hopes that Regan's story will encourage others to consider adoption. "I see dogs who have come from the worst situations but they seek love and comfort in people. I see animals who have been horribly abused by people but just want love that people can offer," Rezac said. "Their resilience is amazing. If we could all love like they do the world would be a better place."