Your Guide to Choosing the Best Shampoo for Your Dog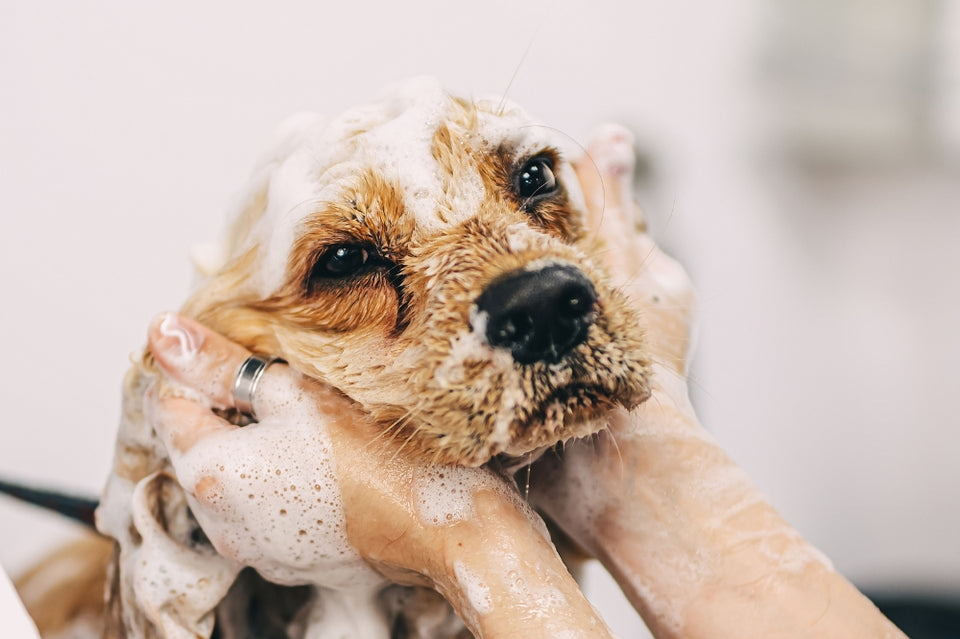 Shopping for pet shampoo can be a little confusing. Does your dog need a deep clean? What about extra moisture? A lot of shampoos for dogs make big promises on the front label while hiding scary ingredients on the back. How can a pet parent be sure they're making the right choice? Our guide to choosing the best dog shampoo for your furry bestie is here to help.
Why your dog needs their own shampoo
Do you really need a separate shampoo for dogs? While you might be tempted to skip buying an additional product, it's not a good idea to use a shampoo made for humans on your pooch. Both human and dog skin has what's called an acid mantle, a thin layer that covers the skin and protects it from contaminants. Lathering up with shampoo removes this layer temporarily, but most shampoos make up for this with ingredients that moisturize and help the acid mantle repair itself quickly. In order for this to happen, the shampoo has to be matched to the skin's pH balance — the ratio of alkalinity to acidity in the skin.
Humans have a lower pH balance than dogs, which means human skin is more acidic — and so is human shampoo. The heightened acid level in human shampoo will make it harder for your dog's acid mantle to repair itself. This can leave them vulnerable to bacteria, viruses and parasites, and also leave their skin feeling dry and irritated.

Not only that, but dog skin is only composed of three to five layers, versus the 10 to 15 layers of cells that make up your own skin. This means that your pupper's skin is not only more sensitive than yours but with their blood vessels so close to the surface, they absorb harsh chemicals and toxins more easily. So while you might be able to get away with using shampoo made for humans on your pup in a pinch, it's better for their skin and their overall health and comfort to have their own shampoo that's formulated and balanced just for their needs.
How to find a safe, natural dog shampoo
Because your fur baby's skin is so vulnerable, it's important to bathe them with shampoo that doesn't contain harsh ingredients that can damage their skin or harm their health. Unfortunately, most of the dog shampoo you're likely to find on grocery store shelves will do just that. As a pet parent, you'll need to get into the habit of reading labels to find a shampoo that's actually safe and healthy to use on your pooch on a regular basis.

Avoid dog shampoo that contains these ingredients:
Sulfates

Phthalates

Parabens

Quaternium-15

Sodium hydroxymethylglycinate

Isopropyl alcohol

Mineral oil

Chemical dyes or fragrances
Instead, look for soap-free shampoos with ingredients derived from nature. These might include ingredients like hyaluronic acid, honey extract, hemp or cannabis extract, rice protein and kaolin clay, which help to gently cleanse without stripping the skin's natural oils while hydrating and moisturizing the skin.
Matching the right shampoo to your dog
The best dog shampoo for your fur bud depends on their type of coat, age, lifestyle and health. Apart from specialized shampoos like flea shampoo or medicated prescription shampoo, shampoo for dogs generally falls into the following categories:
Anti-itch

Deep cleaning

Moisturizing

Tear-free
 Anti-itch dog shampoo is not medicated but has ingredients that can help soothe inflamed, dry and itchy skin. This is a good dog shampoo for itchy skin due to allergies, flea bites or other skin conditions. The best anti-itch shampoo for dogs should contain natural ingredients like colloidal oatmeal or hydrolyzed rice that help to calm skin inflammation and relieve irritation.
All dogs can benefit from a good deep cleaning dog shampoo, but it's an especially good match for active dogs who spend a lot of time outdoors, dogs with thick coats and oily-coated dog breeds. Look for one that doesn't contain sulfates, but instead uses natural ingredients that gently remove dirt, debris and pollutants from your pup's skin and fur without stripping away the natural oils and drying them out.
Moisturizing dog shampoo can help replenish moisture lost from lots of time in the sun and surf or swimming and splashing in chlorinated water. It's also a good match for any dog that deals with itchy, flaky skin due to dryness, or who has dry or damaged fur. A good moisturizing shampoo for dogs shouldn't contain petroleum-derived moisturizers like mineral oil, but should instead include natural, plant-based oils and moisturizers.
Puppies and dogs with eye health issues or sensitive eyes would benefit from tear free dog shampoo that won't burn or sting if it gets in their eyes. Made to be gentler than regular shampoos, tear-free dog shampoo formulas are also a good match for dogs with extra-sensitive skin. Again, look for a natural tear-free shampoo for dogs that doesn't contain sulfates or other harsh chemical ingredients.
Finding safe and healthy shampoo for your dog doesn't have to feel like solving a complex riddle. Knowing which ingredients to avoid and which types of shampoo best fit your pooch's unique set of needs are the puzzle pieces that will help it all fall into place.
Related articles