Memorial Day Party Do's & Don'ts with Your Pet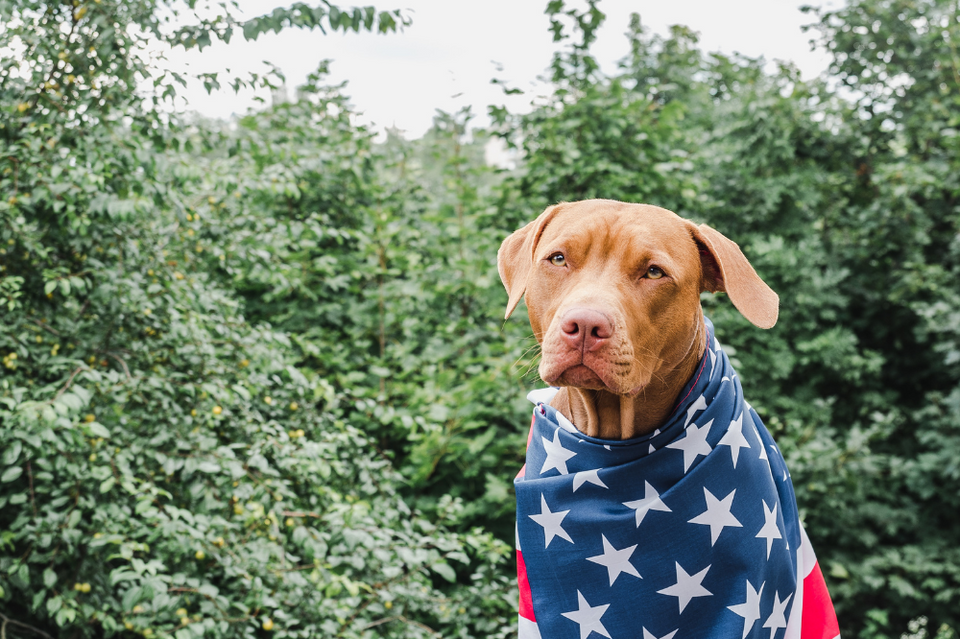 Fire up the BBQ. Slice the watermelon. Light up the fireworks! Memorial Day celebrations are fun outdoor activities for you and your pooch. Don't get too caught up in the festivities… your furry friend has some special needs that will make the day paw-fect for you both.
Here's a few tips and tricks that will make your Memorial Day safe and fun for you and your loyal companion. Because no one loves outdoor fun more than your dog!
Food and Alcohol Safety
If you want to share a treat with your special pup on Memorial Day, just make sure it's vet approved. Some BBQ foods that are particularly harmful for pets include: onions, alcohol, grapes, chocolate, fat trimmings, bones, or raw meat. People tend to leave plates and drinks unattended. Always clean up and keep items out of reach to avoid accidents. If your dog tends to beg for more, make sure to keep an eye on the guests too!
Pro-Tip: Bring dog-friendly treats and drinks. Even though we treat our pets like humans, we still need to make sure they eat and drink the proper foods. Bring plenty of water and pet-friendly snacks so they can have some special treats too!
Heat Safety
Summertime heat can be brutal on all of us. Remember, pets can overheat too! Make sure you have access to plenty of water and shade for you and your furry friend. Look for a shady area, tent or porch to keep your fur pal cool and shaded. Once you've found a shady spot, set up a water bowl and drop some of your dog's favorite toys, so they know it's their area to chill and cool off. 
Pro-Tip: Don't show up unprepared, bring a popup tent or umbrella so you don't have to hunt for shade. 
Fireworks Preparation
Bam! Boom! Pow! Fireworks are beautiful to watch, but the sound can be scary and irritating to your dog. It's normal for dogs to be frightened of loud noises. Especially fireworks. Make sure you have a space or kennel for them to feel safe in. Keep your pooch close when the fireworks start and have an exit plan if the noise is too much for them. 
Pro-Tip: Ask the party hosts to wait for you to get your pooch in a safe space before setting off fireworks. Remember, the closer the fireworks, the louder the noise!
Keep Eyes on Your Pup
Gates and doors will be open. Food will be left on plates. Kids will be running rampant. If you're hosting or going to a party, make sure to keep tabs on your pet. If you decide to leave your pup at home, take your dog for a good, long walk before you leave. This way you know your prized pooch will be waiting right at the door when you get home!
Pro-Tip: Find a responsible buddy to help keep an eye on your pooch. Four eyes are always better than two! 
Water Safety
Pools and lakes can be dangerous if your pet doesn't know how to swim. Don't let your pet chase the tennis ball to the water's edge and hope they don't fall in. Stay aware of your dog's proximity to the water at all times. Make sure if there's water nearby at your Memorial Day celebration your pet can swim! 
Pro-Tip: Bring a towel to dry off your dog after a swim. 
Plan Pet-Friendly Activities 
Pets just want to have fun too! Don't let your partner in crime get bored and find an American flag post as a chewing toy. Bring a bucket of tennis balls, a frisbee, or their favorite tug rope. Your pooch will surely jump at the chance to show off their amazing fetching and catching skills. Make sure to bring a few extra toys so the other pups can join in too. 
Pro-Tip: A bubble gun works wonders as a dog toy and is hilarious to watch! 
Clean Up After Your Pet
No one wants a stinky surprise on the bottom of their shoe. Pick up after your pet and set an example to the other dog owners. A responsible pet parent makes sure the grass is clean for everyone to enjoy. Don't let your pup ruin anyone's good time by leaving an unwanted mess. 
Pro-Tip: Always bring extra baggies, just in case! 
Celebrating Memorial Day with your furry friend can be a fun and memorable experience for you both. While it's important to remember Memorial Day is about honoring and remembering those who have lost their lives in the line of duty, it's also important to remember to look out for your pooch at your festive gathering. By taking note of these tips and tricks, your Memorial Day pawty will be an epic time for you and your favorite furry pal!
Related articles