9 Creative Ways to Use a Bed Runner for Pets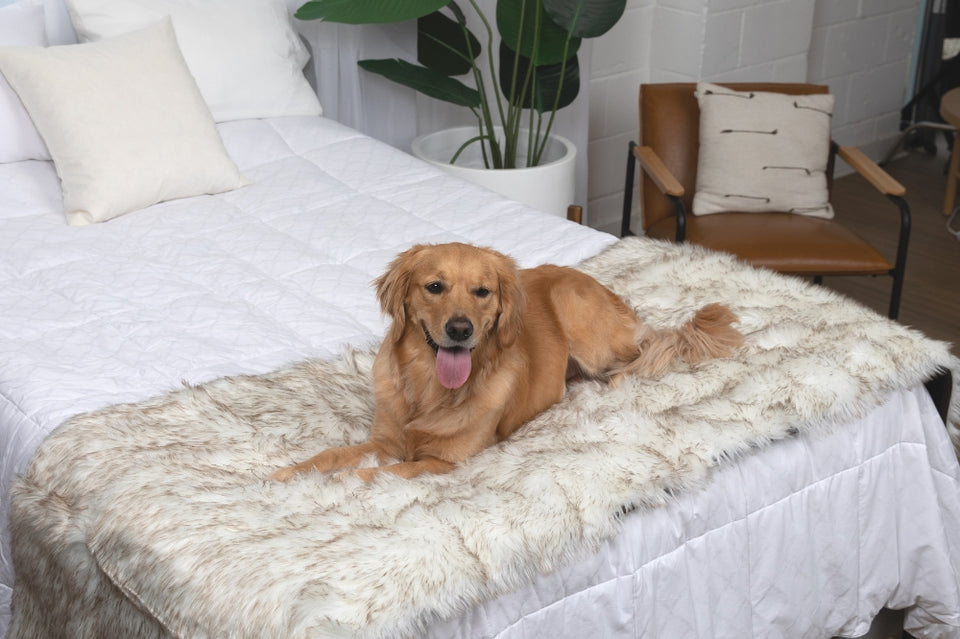 You've likely seen them if you've stayed in a hotel — those strips of cloth draped across the foot of the bed. What are those thin blankets at the end of the bed called? Those are bed runners, also known as bed scarves. And if you're a pet parent who cares about balancing cleanliness and style with your pet's comfort, this rising home decor trend is one you'll want to hop on, pronto.
What is a Bed Runner and What is it For?
Simply put, a bed runner, or bed scarf, is a long strip of fabric that drapes across the foot or the center of a bed. Like a short blanket just for your feet, it simulates the look of a folded quilt or comforter but without the bulk.
What's the point of a bed runner? Hotels have used them for years to protect bedding from suitcases and bags that get set on the bed, as well as from people who like to lounge in bed without taking off their shoes. But bed scarves are as stylish as they are practical, providing a way to add color and texture and make quick changes to bedroom decor without investing in an entire bedding set or a pricey duvet cover. This marriage of form and function has caught on with interior designers and those who like the idea of making their bedroom look and feel like a luxury hotel.
How to Use a Bed Runner for Pets
If you let your pets on the bed, a bed runner scarf could be the ideal solution for protecting your bedding from pet hair, dog smell and all of the unmentionable things that sometimes come out of dogs and cats. But that's not all a bed scarf can do. Here are nine ideas for how you can use bed runners to make your entire home more pet friendly without compromising on style.
Mark a Designated Sleeping Spot
Sharing your bed with your pooch can be a mixed bag. On the one hand, sleeping with your dog can strengthen the human-dog bond and make you feel less lonely -- not to mention adding extra warmth. But dogs also shed, drool and aren't the best at keeping still while you try to catch your zzz's. A dog bed runner can help your pup know where their place is on the bed so all that hair doesn't end up in the sheets and you don't wake up at three AM with a dog butt in your face.
Warm up Cold Feet
It's hard to sleep when your feet feel like blocks of ice. A thick, plush bed scarf across the foot of the bed will add an extra layer to help thaw your toes and keep those tootsies cozy. Even better if it entices your furry friends to drape their warm bodies over your chilly feet.
Keep Cats Corralled
"If I fits, I sits" is a hard and fast rule when it comes to cats. Want to keep your fluffy kitty from shedding all over the bed, but you hate the look of spreading a towel for them to lounge on? Fold a bed scarf and leave it at the foot of the bed. Your feline fur bomb will be drawn to it like a magnet and spare the rest of the bed from getting covered in their pet glitter.
Shield Your Furniture
Bed runners aren't just for beds. They can also provide a great-looking way to protect living room furniture from wear and tear caused by your dog and cat. A king size bed runner is the ideal size to spread across your sofa cushions, or it could be draped over the back of an accent chair like a throw. Smaller sizes are ideal for chairs and loveseats. And your fur kids will love having their own spot on the furniture with the rest of the family.
Keep Car Seats Clean
A pet bed runner can do the same thing for your car seats that it can for your indoor furniture. Spread across the backseat or draped over the front passenger seat, your pup can ride along with you in comfort while their bed runner blanket keeps muddy paws and pet hair off of the upholstery.
Replace Your Bath Mat
Maybe your pup is a unicorn who loves baths and calmly stands still to let you dry them before they exit the tub. More likely, though, bathtime ends in a soggy mess. Spare your bath mat from getting soaked and instead spread out a waterproof dog bed runner to keep Fido from slipping when his wet paws hit the floor.
Help Elderly and Disabled Pets
Blind pets and pets with mobility issues can sometimes use a little extra help to get around. Providing pathways with surfaces that feel different from the rest of the floor can help blind kitties and pups navigate their way around the house. And placing runners along hard, slippery floors help those who have a hard time walking move through the house with more confidence. A furry bed runner can be a more affordable solution than a rug and look just as good, all while giving tired senior pets more soft surfaces to curl up and nap.
Make a Crate Cozy
A bed runner for pets can also make a versatile crate liner. Able to be folded to fit any size dog crate, a plush bed scarf is a quick and easy way to add a layer of softness between your pooch and the hard bottom of the crate, making their crate time more comfortable and cozy.
Take Camping or Hiking
Easier to fold than a dog bed, lighter and less bulky than a full-size blanket, a pet-friendly bed runner is a great choice to take along on hikes or camping trips to provide your fur bud with a soft place to rest their tired paws after a day filled with adventure.
Choosing a Pet-Friendly Bed Runner
When it comes to pets, not all bed runners make the cut. Here are a few features you'll want to look for when choosing a bed runner for pets:
A waterproof liner to protect your bed and furniture from accidents

Machine washable and easy to clean

Durability and versatility

Thick, plush and comfy for your fur babies

Goes well with your decor
Bed runners, bed scarves, blanket runners — whatever you call them, they're a great way to add a touch of style to your bedroom or living space while containing your pet's mess and providing them with homey comfort.
Related articles